During the week while at work or school can make sticking to a ketogenic diet difficult if you're not prepared. Things can be even trickier if you're also trying to adhere to a dairy-free eating plan. These 10 dairy-free keto lunch ideas should help!
The best way to stay within the parameters of your health requirements or goals is to bring your own lunch with you. Many of the lunches you'll find on this list are easy to make and keep well either with a cold pack or in the fridge.
This round-up of dairy-free keto lunch ideas is perfect for at home, too. They're easy to make and won't take up too much of your time to throw together. You can make most of these in big batches to stash in the fridge for eating on all week, which means, you've got no excuse but to stay on track!
This little ditty makes a wonderfully nutritious noontime meal! It's packed full of protein and healthy fats. Plus, you get a little kick of spice. If you've prepped your ingredients beforehand, this salad is very easy to throw together on the go.
Spicy Shrimp and Avocado Salad with Tahini Dressing
This Shrimp and Avocado Salad with Tahini is a super tasty salad. It's also Paleo, Gluten free and Whole30 compliant!
Check out this recipe
If there ever was a super simple dairy-free keto lunch idea, this would be it. Thai tuna salad is super easy to make! You may even have all of the ingredients in your pantry, already. It's robust in flavor, full of heart-healthy omegas, and packs a mega punch of protein. Plus, it fits well in any container with a lid. Enjoy over a bed of lettuce or as is.
Thai Tuna Salad - Easy and Flavorful Canned Tuna Recipe
This Thai tuna salad is the perfect way to use up canned tuna in the pantry! Easy ingredients make this Thai tuna salad so flavorful and full of protein!
Check out this recipe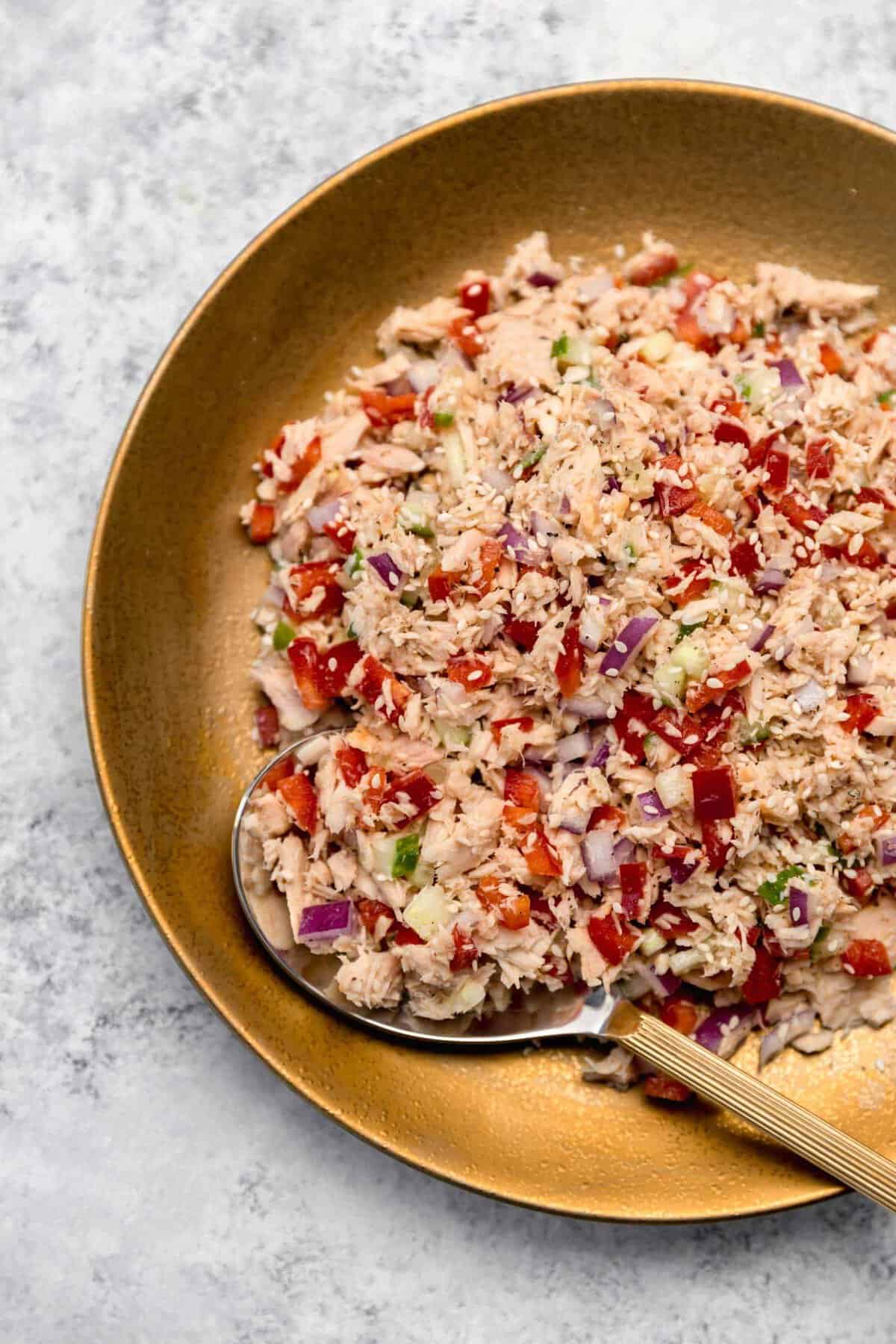 I really like these wraps because you can make up a batch for the entire week and not have to think about what you're going to make for lunch the next day. Personally, I don't mind eating the same thing a few days in a row.
These lettuce-wrapped tacos are amazing because you can add pretty much anything you want to them. Omit the cheese as a topping and instead add more avocado or mix it up with radish or green onion!
Sometimes I don't even bother to assemble these in lettuce leaves, I just throw chopped lettuce in with everything for a super easy taco salad.
Turkey Taco Lettuce Wraps - Cooking Classy
Make your weeknight tacos healthy with these Turkey Taco Lettuce Wraps! They're a breeze to throw together and are full of delicious flavors from ground
Check out this recipe
Here we have another great make-ahead lunchtime meal. If you crave something a bit different, give these savory salmon patties a try. You can pair them with any variety of green veggies. Adding a smear of homemade tartar sauce will give you another hit of satiating fat.
Note: The original recipe calls for ¼ cup of parmesan cheese, but you can easily omit that without disturbing the integrity of the recipe.
Salmon Patties with Fresh Herbs - Ruled Me
These are stuffed with fresh chopped herbs like chives and dill, Parmesan cheese, as well as a sprinkling of lemon zest for brightness.
Check out this recipe
These kebabs are perfect for taking with you on the go! They can be enjoyed either hot or cold. The flavor is to die for. The recipe calls for a dash of grated parmesan cheese, but I simply replace this with a bit more garlic to keep the pesto dairy-free. It's very clean and herbaceous.
This recipe is low in fat, I'd dip these guys in a good mayonnaise to round out the macros for a more keto-friendly meal. You can mix any flavor you like into the mayo. I like to mix in some Frank's Red Hot to spice things up with a buffalo aioli.!
Grilled Pesto Chicken and Tomato Kebabs
Grilled Pesto Chicken and Tomato Kebabs SCREAM summer! Made with chunks of boneless chicken breasts, basil pesto, and cherry tomatoes, they are great as an appetizer or dinner.
Check out this recipe
This is a great weeknight dinner option. You can make enough to have leftovers and pack them up for your lunch the next day. Serve over riced cauliflower and you've got yourself one heck of a lunch! You'll find that this is another easy Tupperware-type meal for your lunchbox.
Easy Pork Stir Fry Recipe With Vegetables (low carb)
This easy pork stir fry recipe is healthy and low carb. It comes together so fast dinner will be on the table in 15 minutes. Before embarking on my low carb keto journey, ordering takeout from our favorite Chinese restaurant was a weekly occurrence. Pork dishes were some of my favorites, especially…
Check out this recipe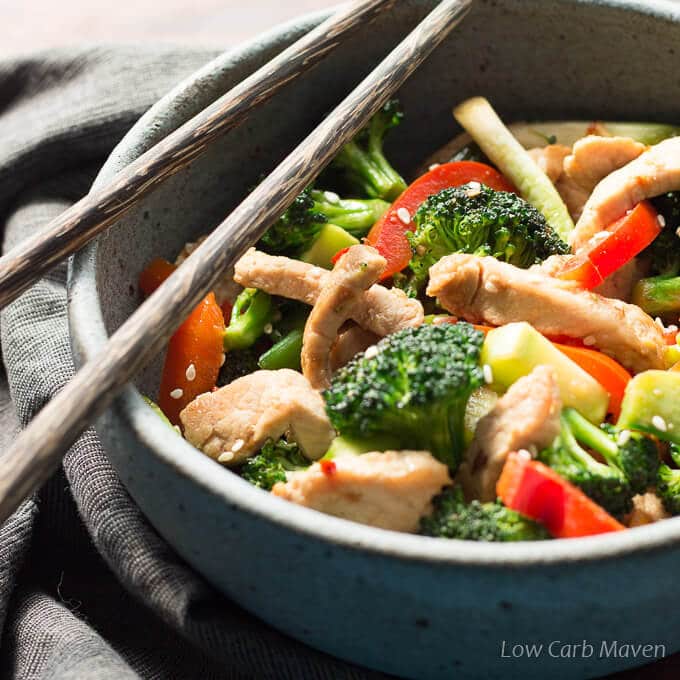 This is another excellent meal idea for a family dinner. You can also cook it up as part of your weekly meal prep, so you have your lunches all set for the week. The flavor is robust and certainly something you'll be craving all day long while you wait for your lunch break to come rolling along. Plus, this meal is packed with tons of nutritious spinach.
Low-Carb Lamb Curry with Spinach (Saag Gosht)
Low-carb lamb curry with spinach in the slow cooker. Perfect meal at the end of the day. Packed with nutrition with delicious coconut cauliflower rice
Check out this recipe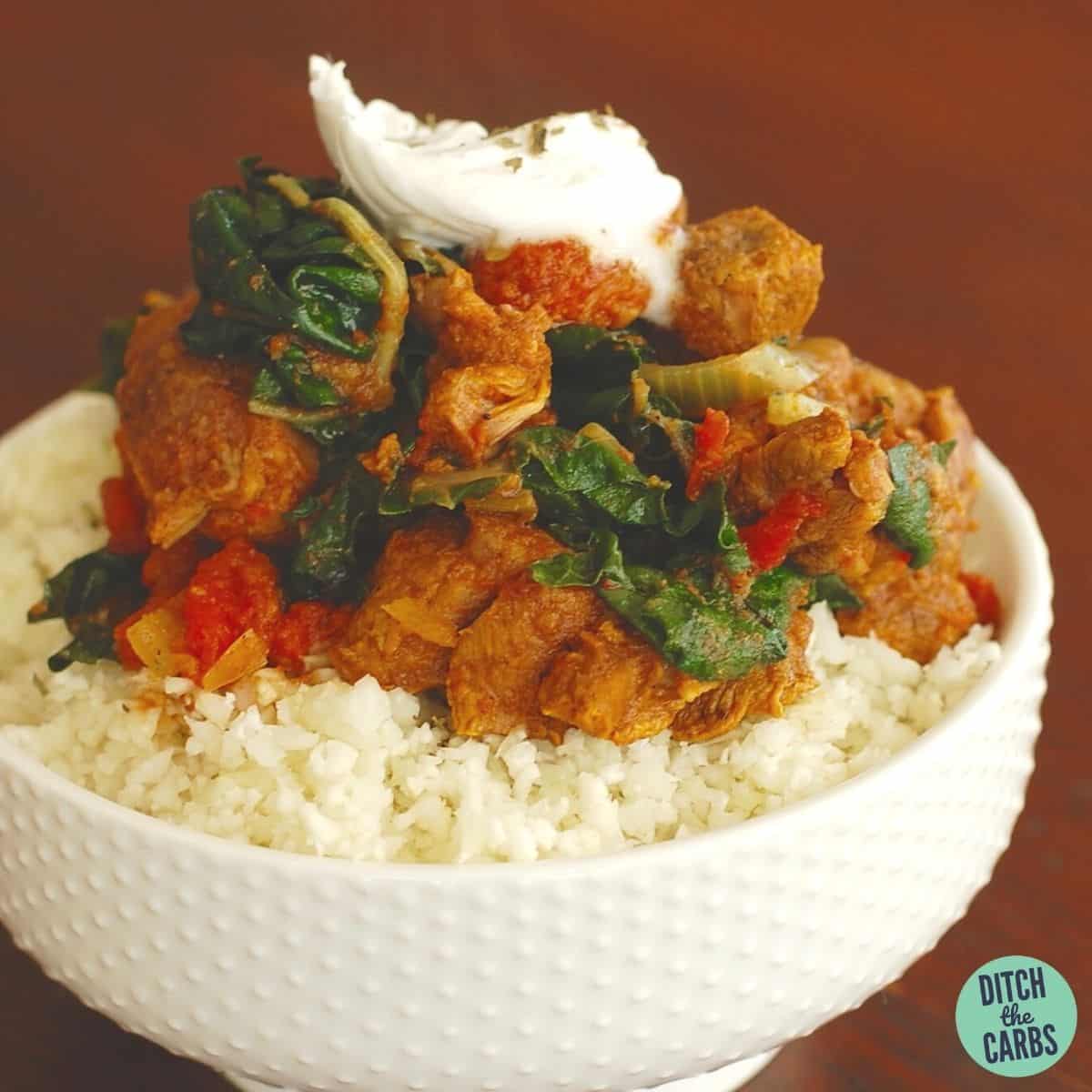 You'll love the quick and easy ingredients lurking within this recipe! It's the perfect lunchtime meal that's dairy-free, flavorful, and full of protein and healthy fats. Eating it over riced cauliflower truly makes you feel like you've stopped at your favorite Asian restaurant.
Korean BBQ Keto Bowl - The Nourished Caveman
A quick and easy version of a famous Korean dish! You can make this Korean BBQ Keto Bowl at home pretty much anytime and if you have meat leftover makes for a great salad topping.
Check out this recipe
Talk about easy! I don't know about you guys and gals, but I love a good quick and easy avocado recipe. These tuna-filled avocados can be quickly made up in the morning and placed in your favorite air-tight container.
Note: Spritz them with a little bit of lemon juice to keep them from browning.
Spicy Tuna Stuffed Avocados
Get your low carb keto sushi on with this spicy tuna stuffed avocado recipe. It's paleo, easy to make, and delicious. You won't miss the rice! Stuffed avocados are all the rage right now and
Check out this recipe
If you've ever craved chicken noodle soup during those cold winter months, here's your chance to have it! This recipe has been modified for keto compliance with the addition of Shirataki noodles. It's 100% dairy-free and easy to pack into your lunchbox. In place of carby crackers, I enjoy eating this soup with pork rinds.
Keto Chicken Noodle Soup Jars | KetoDiet Blog
These keto & paleo soup jars are quick to put together the night before, keep well in the fridge, travel easily and they taste amazing!
Check out this recipe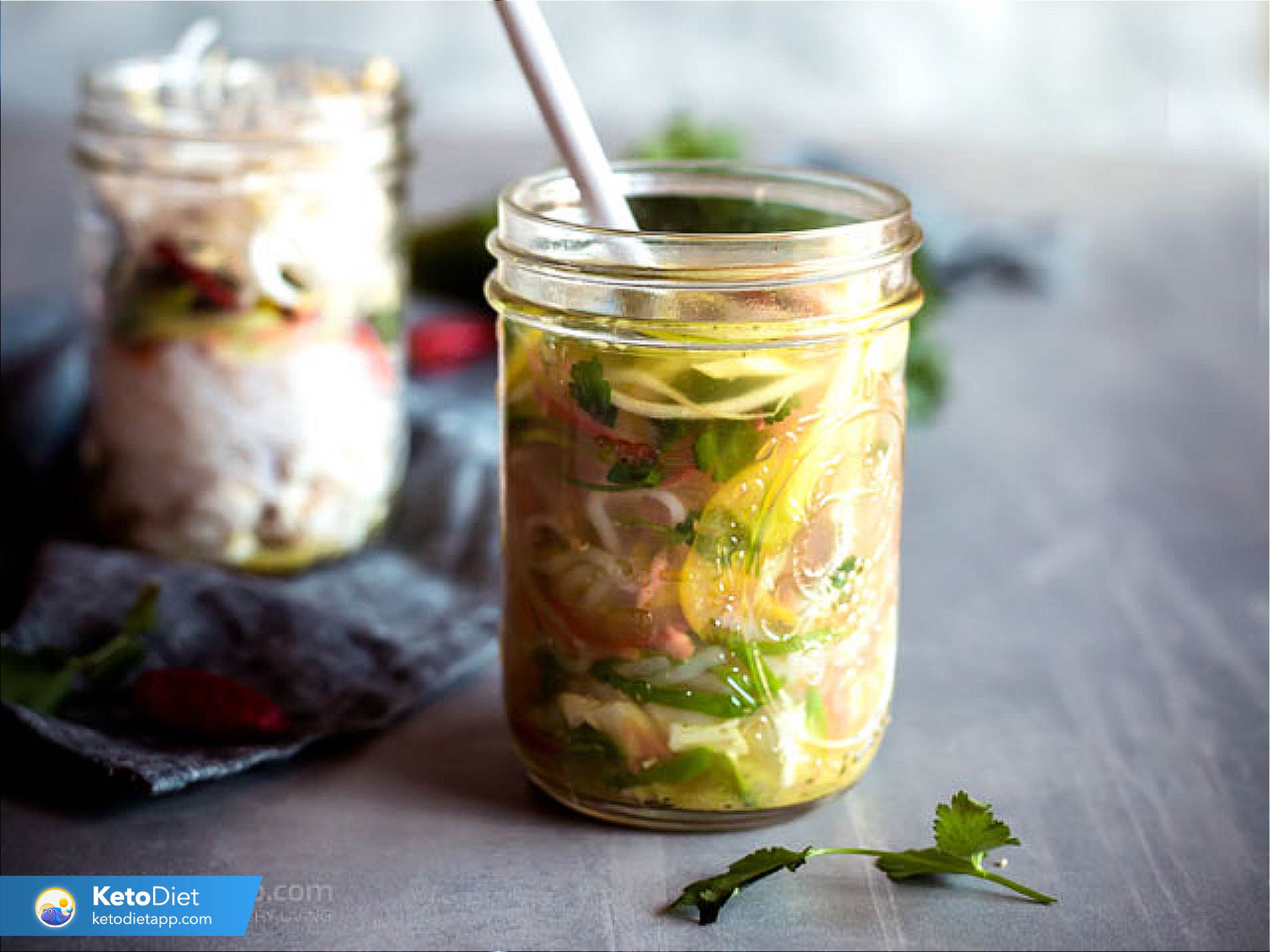 Dairy-Free Keto Lunch Ideas Are Never Boring!
When it's time to put work or school aside for that glorious noon hour, make sure your lunch is something to look forward too. These dairy-free keto lunch ideas can be totally tongue-tantalizing as you've seen by this roundup of recipes.
These recipes may not be your typical brown-bag lunch ideas, but they certainly mix things up. The days of peanut butter and jelly sandwiches being stuffed into your lunchbox are over. Keto dairy-free lunches are delicious, and they make that old PB&J look like garbage. Not to mention you won't feel like garbage with these healthy eats!
Let me know which one of these recipes is your favorite in the comments. I'd love to hear all about what's in your lunchbox.