Sugary candy is so overrated, especially when it wreaks havoc on your health goals. This Halloween season you can fight back against the candy war! How can you do that? With Halloween-themed veggies, of course. You don't have to serve sugar-laden foods at your harvest parties and spooky events. Serve Halloween veggie trays instead!
Even if you're invited to a Halloween gathering, you can bring your own platter of frightfully delicious vegetables. Trust me; these recipes pack a real scream of low-carb flavor.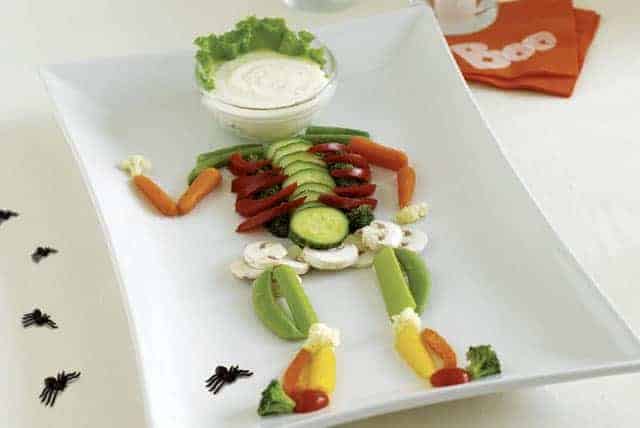 When you want a super healthy snack with an eerie out-of-this-world appeal, this dish is for you. Who knew you could create eyeballs, fingers, ears, and brains out of veggies?
Use any raw vegetables that you want when making this horrifying treat and pair with your favorite low-card dip or dressing.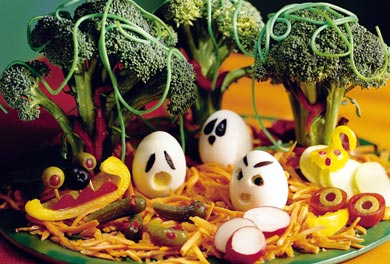 Veggies never looked so terrifying! Of course, I mean that in a good way. Keeping with the spirit of Halloween, this vegetable platter turns broccoli, beets, and other assorted roughage into a spooky forest of ghosts and goblins.
Add in hard-boiled eggs for a ghastly punch of protein and healthy fat. Your party guests won't be saying "boo" to this pile of delicious hors d'oeuvres.
Creep out your friends and family with these ghoulish eyeballs! They're made from low-carb radishes and green olives. It's essential your green olives have pimentos in them so your eyeballs can have a red, demonic glow. Freaky!
Low-carb Halloween-themed veggies can't get any easier than this pumpkin-shaped crudité. It's very quick and easy to throw together for a last-minute party platter idea. Plus, it's really cute.
Arrange carrots cukes, and broccoli in the shape of a pumpkin and serve with your favorite keto dipper. This a surefire Halloween treat that even your kids will eat.
This recipe is fun and entertaining! It makes an excellent appetizer for a Halloween-themed dining experience or party. Whether you're having over houseguests or you want to make suppertime a bit creepier for your family, a skelly veggie tray will do the trick.
This scary spider will jazz up your dinner table this Halloween season. Don't worry, the spider isn't real, but the crunchy, hearty flavor of that orange bell pepper is! You can actually use any color of bell pepper that you want or a combination.
I think this creepy spider dip platter would make a delicious All Hollow's Eve party treat or a simple snack for the fam.
This is a really disgusting idea and that's why I love it as a Halloween appetizer. You can easily surround this puking pumpkin with your favorite veggies. We're keto so we won't be scooping up that guac with chips. Now, that would be scary!
Ok, boils an ghouls, this one is probably the easiest to put together of all the Halloween veggie trays I've seen. It consists of cauliflower, carrots, and yellow bell peppers. All you have to do is cut up the veggies and arrange them into the famous candy that everyone loves to hate.
Serve with your favorite low-carb dip or dressing.
This veggie tray is a bit more labor-intensive than the others, but if you have the time and patience it's worth making. The cauliflower skull totally kills this low-carb party food platter! Arrange with your favorite vegetables and low-carb dip for a shockingly tasty treat.
Want to scare your neighbors? Invite them over to snack on this ghostly veggie platter! It's made from all things low-carb so I can't understand why that ghost has such a terrified look on its face. Maybe it's because it knows it is about to get eaten!
Another super easy Halloween veggie idea. All you have to do is carve out skull faces on white mushrooms. These would make a great addition to any veggie tray at your Halloween extravaganza.
I hope these Halloween veggie trays have sent shivers up your spine! After all, shivers are better than insulin spikes. Enjoy!