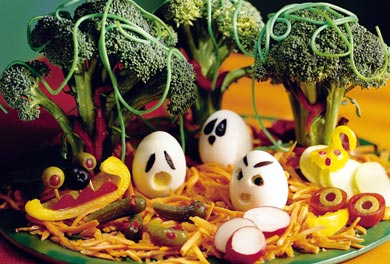 Fresh veggie platters are a must for a great low-carb shindig. This haunted forest platter is the coolest of all veggie trays! It's so festive and whimsical. Your guests will love every bit of this healthy munchy.
Help your Halloween party-goers get their veggies in! This is one of the coolest crudites platters I've ever seen. A spooky forest scene all made from fresh veggies with little hard-boiled egg ghouls and goblins.
You can use any veggie combination you want to put together this spooky forest scene. Get creative and have fun. Or grab some whine and get a few friends together and build it as a project.
Awesome! Serve it with dairy-free bacon ranch dressing or your favorite low-carb vegetable dip for the most delicious of low-carb treats.
Find Cheap Halloween Decor on Amazon!
This haunted forest platter veggie tray would make the perfect centerpiece to a low-carb or paleo Halloween snack table. You could also serve dead man's Halloween ribs, bloody chicken eyeballs, and eyeball tacos!
Decorate your pad with creepiness, put together the hottest playlist ever, mix up some Halloween themed cocktails, organize some cheesy Halloween games, and get ready for the bash of the year!
Recipe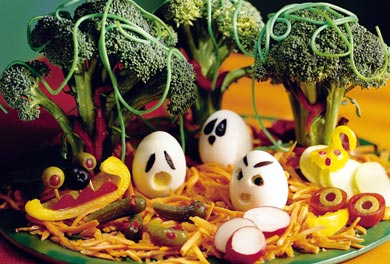 Haunted Forest Platter
This haunted forest platter veggie tray is so fun to put together. Your guests will think it's the cutest thing ever!
Ingredients
3

Stalks

Broccoli

3

Medium

Beets

Wood Toothpicks

3

Hard-Boiled Eggs

Assorted Vegetables: Cherry Tomatoes

Pea Pods, Kohlrabies, Radishes, Sweet Red Peppers, Sweet Yellow Peppers, and Shredded Carrot

Ripe Olives

Pimiento-Stuffed Olives, and/or Baby Dill Pickles

1

Zucchini

Spiralized
Instructions
To make a haunted forest, first create trees. Cut bottoms from stalks of broccoli to make 6-inch broccoli trees. Slice beets about ½ to ¾ inch thick to make a base for broccoli trees. Break wood toothpicks in half. Insert three to four toothpick pieces into the bottom of each broccoli stalk and then insert it into a beet slice. Stand broccoli upright. Cover to keep moist.

To make egg ghosts, use a small knife or ½-inch aspic cutters to hollow out eyes and mouths to form a face. Cut small pieces of ripe olive to press into hollowed-out areas for eyes or mouth, if desired. Cover to keep moist.

Using your imagination, create creepy creatures with tomatoes, sweet peppers, pickles, olives, and radishes.

Place broccoli trees on serving platter. Cover surface of platter with shredded carrot. Hide egg ghosts in the forest along with creepy creatures. Scatter piles of vegetables such as pea pods, beet slices, kohlrabi slices, olives, pickles, and/or any other desired vegetables. Add strips of red pepper to the broccoli branches.

To make moss, place spiralized zucchini over broccoli trees. Keep platter covered until serving time. If necessary, spritz platter with water to keep it moist.
Nutrition
Calories:
32
kcal
Carbohydrates:
4
g
Protein:
2
g
Fat:
1
g
Saturated Fat:
1
g
Polyunsaturated Fat:
1
g
Monounsaturated Fat:
1
g
Cholesterol:
28
mg
Sodium:
37
mg
Potassium:
189
mg
Fiber:
1
g
Sugar:
2
g
Vitamin A:
208
IU
Vitamin C:
23
mg
Calcium:
20
mg
Iron:
1
mg