It's time to ditch any fear of fat, and get on board with the keto craze of the moment - fat bombs! While they do seem to be all the rage right now, it's for good reason. The evidence supports that a diet filled with the right kinds of fats offers a multitude of health benefits. These dairy-free fat bomb recipes will satiate your hunger and satisfy your sweet tooth.
Not All Fats Are Created Equal
Chemically speaking, all fats consist of a chain of carbon atoms that are bonded to hydrogen atoms. What makes one fat different from another is the length of the chain of carbon atoms and the number of hydrogen atoms connected to them. These slight variations in structure lead to significant differences in both the form and function of a specific fat.
There are two methods to classify fats. The first method is based on saturation, and most people are aware of the differences between saturated and unsaturated fats and oils. For a quick refresher course on fat saturation, this report by the Harvard Medical School outlines the good, the bad, and the in-between. (1)
The second method for classifying fats is to classify them based on the length or size of the fatty acid. There are short-chain fatty acids (SCFA), medium-chain fatty acids (MCFA), and long-chain fatty acids (LCFA). Each of these terms refers to the number of carbon atoms a specific fat has in their chain. The size of each carbon chain determines the chemical and physical properties of each fat.
Let's take a deeper look at one of the staples of many fat bombs - coconut oil.
Whereas a majority of dietary fats are composed of LCFAs, coconut oil finds itself in a special camp with over 50% of the oil being composed of MCFAs. This key difference is that LCFAs require more complicated digestion, taxing more of the body's organs, and eventually be stored as body fat. In contrast, MCFAs, like coconut oil, are absorbed by the gastrointestinal tract without requiring any pancreatic enzymes, and are transported directly to the liver where they are metabolized directly for energy.
Dr. Rhonda Patrick of Found My Fitness put out a report on the health benefits of coconut oil that cited 25 different articles published in a multitude of scientific health and nutrition journals. The report showed that coconut oil:
Increases energy and metabolism
Decreases body fat
Suppresses appetite
Increases cardiovascular health
Promotes healthy skin and hair, and
Promotes brain health and prevents neurodegenerative diseases, like Alzheimer's (2)
Even more, healthy fats also contribute to the production and regulation of hormones, and have been shown to be crucial for fertility, and have positive effects on regulating ovulation and sustaining healthy pregnancies. (3)
What's more? Fat bombs are satisfying, delicious and versatile! To get you started, I've gathered up some of my favorite dairy-free fat bomb recipes. All you have to do is dive in and give them a try.
These fat bombs are the perfect option for anyone looking for both a dairy-free and nut-free recipe. A lighter, classier cousin of peanut butter cups, their layers of sunbutter and dark chocolate can curb any craving on the spot and keep you on track with your healing diet goals. (And, as an added bonus, check out that great infographic outlining the top five low-carb sweeteners.)
Replace those Andes Mints with these amazing fat bomb copycats that help you swap sugar for fats with a healthier mix of an all-time favorite flavor combo: chocolate and mint. Perfect as an after-dinner sweet or as a snack replacement, these tiny treats help satisfy your hunger while giving you all the health benefits mentioned before.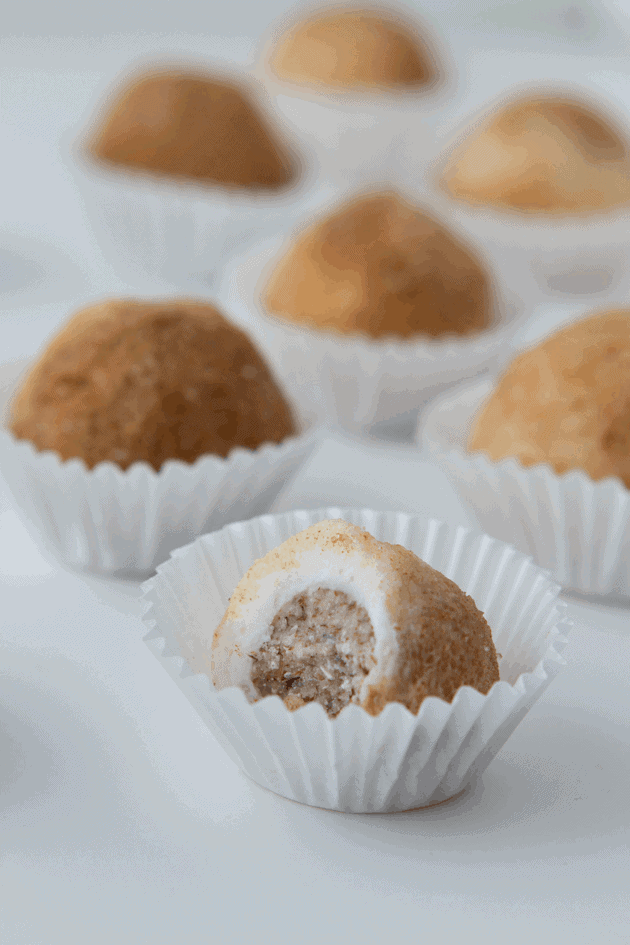 Even if you're walking past the cinnamony goodness emanating from a Cinnabon or your favorite local bakery - you've got this! Choosing to modify your diet, whether for specific health concerns or for weight loss, is never easy because the world is full of temptation. The important thing to remember is that it is possible. When you're longing for those old familiar favorites, try a modified version like cinnamon roll cheesecake fat bomb. Approximating those same flavor profiles with the use of dairy-free or vegan cream cheese and butter flavored coconut oil, you'll get a taste of what you're craving while doing your body and mind a solid.
Another fall-time favorite, these pumpkin pie fat bombs let you get in on all the pumpkin spice action keto-style! A simple six-ingredient recipe, these bites offer straightforward seasonal goodness. Whip up a batch for a holiday gathering or keep some on hand to enjoy with a hot cup of bulletproof coffee.
Find Silicone Candy Molds on Amazon!
If you're a fan of fruity flavors, fat bombs can go there too. These bombs bring the rich flavors of cashew butter, coconut butter, and coconut oil and merge them with tangy lemon for a refreshing citrusy snack. Great during warmer weather, these will keep your energy high and your appetite in check.
Because of their high-fat content, most fat bombs are best served chilled, but when the heat waves of summer are in full force, sometimes you want to indulge in the ultimate frozen treat - ice cream! If you want to dive into making your own keto fat bomb ice cream, pick up an ice cream maker and give it a whirl. While chocolate walnut is a personal favorite of mine, this recipe makes a great base to get creative and experiment with other flavors and add-ins.
Another great summertime option is to go ahead and put your fat bomb on a stick. A great way to satisfy your sweet tooth, cool down and give your body all those benefits of healthy fats, this keto fudgesicle is easy to make and serve.
Don't let the name scare you from trying them out. With amazing health perks and plenty of versatility, the hype is real for keto fat bombs.
I would love to know if you try any of these dairy-free fat bomb recipes. Share your reviews in the comments!
Resources:
Harvard Health Publishing Harvard Medical School. The truth about fats: the good, the bad, and the in-between. [Internet]. [cited February 2015, updated 13th August 2018]. Available from: https://www.health.harvard.edu/staying-healthy/the-truth-about-fats-bad-and-good.
Patrick R. Found My Fitness. Coconut Oil: How Healthy Fat Can Lead to a Healthy Lifestyle. [Internet]. [cited 2013]. Available from: https://www.health.harvard.edu/staying-healthy/the-truth-about-fats-bad-and-good.
Mumford S, Chavarro J, Zhang C, Perkins N, Sjaarda L, Pollack A, et al. Dietary fat intake and reproductive hormone concentrations and ovulation in regularly menstruating women. Am J Clin Nutr. 2016;103(3):868-877.