This list of 30 keto Halloween recipes has everything you need and more to survive Halloween, no sugar necessary!
Halloween is my favorite holiday! It's also the start of the sugar season, which can be really difficult for some folks. There's no reason to shy away from social get-togethers and parties this time of year because you're avoiding sugar.
Halloween Deviled Egg Recipes
Deviled eggs are a fantastic snack. I make them year round whenever I need to use up eggs or mayo that's been hanging around the fridge for too long. They're perfect for breakfast, snacks, and sides. They're also very easy to decorate for Halloween.
Halloween Veggie Trays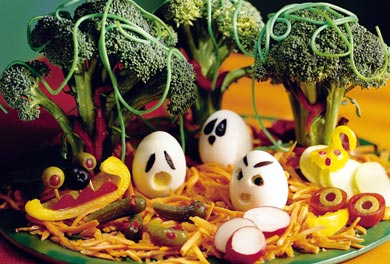 Veggie trays are the best party food there is. They're keto and low-carb friendly and they fit in to every other eating plan out there. Even the vegans can get down on a veggie tray. Just arrange the plant matter in a spooky way and you've go the perfect keto Halloween dish!
Halloween Appetizer and Snack Recipes
Besides deviled eggs and veggie trays, there are a million appetizers and snack options that can be ghoulishly arranged for Halloween. Here are 11 keto options that are sure to creep you out!
Halloween Main Dish Recipes
You can really get creative with main dishes! Everything from molding a meatloaf into the shape of a zombie hand, to carving hotdogs to look like severed fingers. The creepy vibes are real with these main dishes!
Halloween Dessert Recipes
Of course, desserts and treats are what Halloween is all about. Here are 17 keto Halloween dessert recipes that will slash that sweet tooth and impress your guests!
Halloween Beverage Recipes
When it comes to beverages, there are several options for your punch bowl. Some with floating hands and others with shrunken heads!
Halloween Cocktail Recipes
This list wouldn't be complete without a couple of Halloween cocktails, so I included a couple. Alcohol isn't healthy, but each of us have to make that decision for our own body.
There you have it! 50 keto Halloween recipes. Your Halloween party will be incredible and your guests will feel great afterwards. No sugar hangover here!